Microsoft's Windows 12 is one of the most awaited software releases, and people are eager to know more about it. It's being touted as a significant upgrade to previous versions, with many new features, improved performance, and enhanced security. In this Windows 12 review, we'll be taking an in-depth look at the release date, new features, hardware requirements, price, and more.
Note: This article will be continuously updated until Windows 12 officially launches. Remember to follow the article weekly to receive the latest information about this update!
Will there be a release of Windows 12?
Microsoft has not yet revealed when Windows 12 will be released but rumors suggest that it could be sometime in 2024.
It is expected that a new version of Windows would be released every three years, but this has not been the case since Windows 7 was released in 2009. After the unsuccessful launch of Windows 8, Microsoft jumped straight to releasing Windows 10 and then Windows 11 – with only minor updates along the way. If a major update is coming out soon, it's likely to be named Windows 12 and could become the latest version of Windows. However, while many rumors have circulated about a potential release date for Windows 12, no official statement from Microsoft has confirmed this as of yet. Despite this, it's possible that Window 12 may offer more features when compared to its predecessors, such as windows 11, and could bring unique changes to the traditional user interface of previous versions of windows. We'll have to wait and see what happens!
What expected features would Windows 12 have? (everything we know so far)
In terms of new features, Windows 12 is going to offer improved multitasking abilities with better organization options for apps. Furthermore, there have also been several reports indicating that Microsoft will introduce advanced AI capabilities to improve performance without compromising security measures.
It will be a major upgrade to Windows 11 and will include many new features that are not available in its predecessor. One of these new features could be a floating taskbar which is similar to the one found on Windows 10. This would allow users to easily access their most used apps without having to open up a separate window or tab. Additionally, Microsoft may also introduce other features such as improved security, greater performance, and better integration with other devices. With its innovative new features, Windows 12 promises to be an exciting version of Windows that users can look forward to in 2024.
Apart from that, the only way to know exactly what's new in Windows 12 is to be part of the Windows Insider Program.
Windows 12 interface was accidentally revealed by Microsoft, similar to macOS?
Although Microsoft hasn't officially confirmed its plans yet, a snapshot from the recent Ignite conference gives a glimpse of the design ideas the company is exploring and considering implementing in Windows 12. There's no resolution though. High resolution and lack of detail, but we have somewhat seen some significant changes in the upcoming operating system.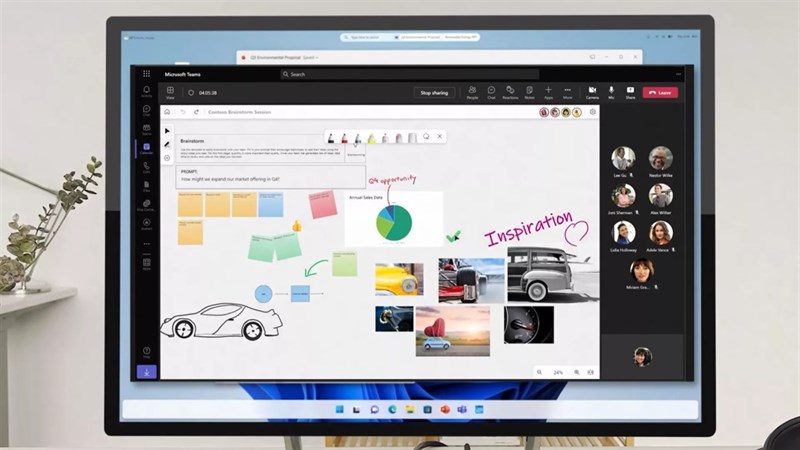 Specifically, the company will bring a translucent bar for items located at the top of the screen, similar to the menu bar of macOS. Microsoft is also said to have plans to redesign other parts of the operating system, such as the login screen, notification center, and more.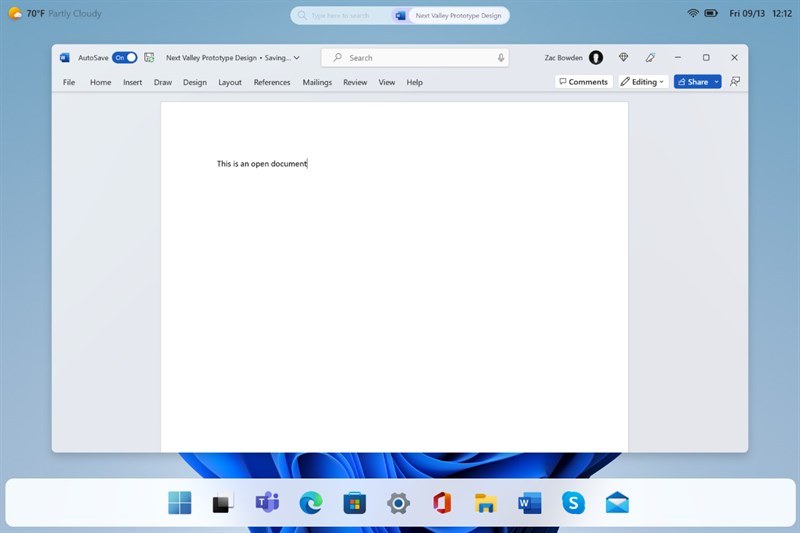 This is a significant change to the Windows operating system and user interface principles. But it's too early to say what the next generation of Windows will look like and what changes it will bring.
What's new in Windows 12 features? Change the interface to become more intuitive.
We can go through the concept of Concept Central, so let's learn and predict some changes in the interface as well as new features on this version of Windows.
As you can see in the video, Windows 12 has changes to the Start Menu, Taskbar, and many other places. According to the concept, Windows 12 will allow users to customize shortcut buttons right on the main screen to switch music and weather buttons to the main screen like widgets on mobile devices.
Will Windows 12 be a free upgrade?
The question of whether or not Windows 12 will be a free upgrade is one that many Microsoft users have been asking. At this point, nothing has been officially confirmed by Microsoft but it is speculated that the major Windows update will be available as a free upgrade to existing Windows users. This would be in keeping with past updates, such as the move from Windows 10 to Windows 11, which were also made available for free. By upgrading to Windows 12, users can gain access to the new and improved features included in the update. In any case, current Windows users should keep an eye out for news from Microsoft regarding a potential free upgrade to their version of the operating system.
What are the minimum system requirements for Windows 12?
Let's talk about hardware requirements for running the upcoming version of Microsoft's operating system. While the specifics haven't been confirmed yet, analysts expect that running Windows 12 may require some beefier specs than past versions due to its ambitious feature set.
Despite the fact Microsoft Windows 12 is yet to be released officially, we will use the requirements of Windows 11 to determine if the computers are compatible with the new Windows 12.
Windows 12 is the next operating system from Microsoft. It has been designed to provide users with a fast and secure experience. In order to get the full benefits of Windows 12, it is important to meet its system requirements. The basic requirement for running Windows 12 should be an Intel Core i3 processor or higher, 4GB RAM or higher, and at least 25GB of available storage space. Additionally, a Microsoft account is required in order to access all features of Windows 12. Finally, an internet connection is necessary in order to download updates and use other online services. By meeting these system requirements, users can enjoy all the features that Windows 12 has to offer.
Should you upgrade to the next version of Windows?
Deciding whether or not to upgrade to Windows 12 from Windows 11 is a difficult decision that many Windows users must face. Microsoft has released this new version of its popular operating system with a range of new features, which may add great value to the user experience. However, system requirements must also be met for the upgrade process to work properly, and these can vary depending on your current Windows version. Before making such a decision, it is important to research what new features have been included in Windows 12 and any additional updates that may be required. While deciding whether or not to upgrade is ultimately up to the individual user, taking the time to understand what new features are included and how they might benefit you can help make the decision easier.
Can I keep using the version of Windows 10/11?
If you have heard about Windows 12 update, it's still being determined for now. Microsoft has yet to release much information about Windows 12, which is unavailable for use. If you are currently using an older version of Windows, such as Windows 7 or 8, you will need to upgrade to a newer version in order to continue having the best experience with your computer. You can upgrade to Windows 11 now and when the new version of Windows comes out, you would be able to upgrade again at that time. In the meantime, make sure your current system is up-to-date with the latest security updates and software patches to keep it secure and functioning properly.