It is safe to say that keyboard shortcuts such as Ctrl+F make life easier for all of us. They're convenient, easy to use, and once you've memorized them, using them becomes a thing of habit.
This is precisely why it may be quite frustrating when some of them aren't working for you since it disrupts your entire routine. In case your Ctrl+F shortcut isn't working, there could be several factors that are blocking this function.
In this guide, we will tackle some of the most common reasons behind this issue, as well as the quickest and easiest ways to get this handy shortcut to work again.
Why is Ctrl+F not working on Windows?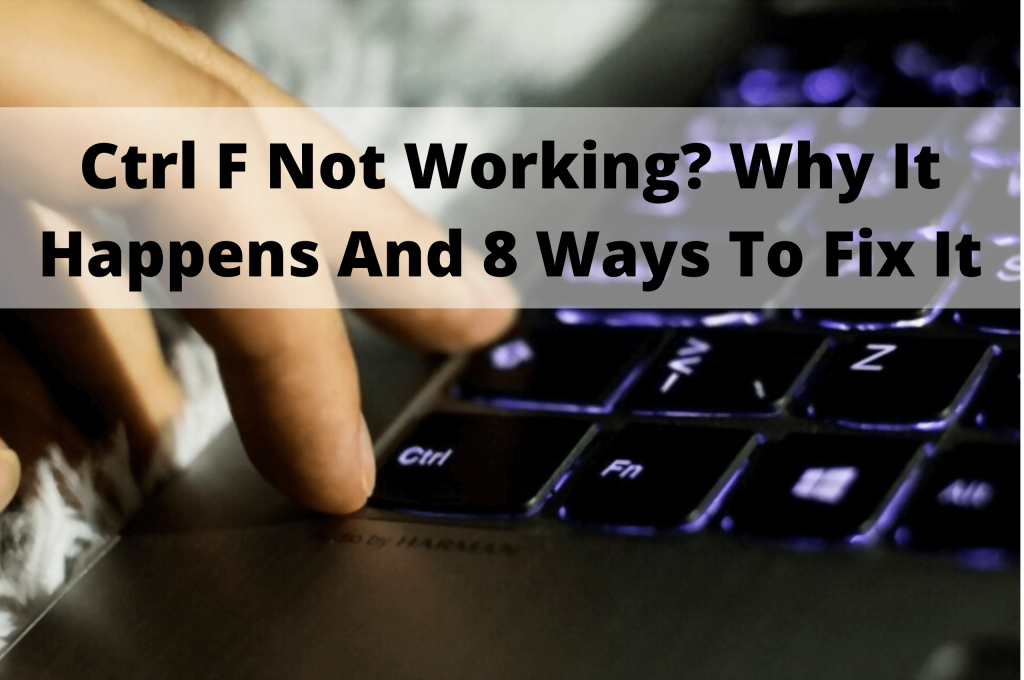 If your Ctrf+F is not working, there could be several reasons why this shortcut won't automatically open the search bar on your PC. Let's see what could be causing the issue in your case.
1. DLL file issue
In case pressing the Ctrl+F combination isn't opening up the Find bar, and you're a Windows PC user, it could be that there is a DLL file issue.
In this case, the DLL file may be either corrupted or wasn't properly installed in the first place.
DLL, which stands for Dynamic Link Library, encompasses the data and code shared by multiple programs in the Windows system.
2. Ribbon options
In case there is no issue with your DLL file, it could be that the search bar is popping up on the opposite side of the screen in your Microsoft Word and you're not noticing it.
With some new Windows updates, the search bar may appear on the left side of the screen as opposed to the right you're used to.
If you find this annoying and you'd like to change the settings so that the Ctrl+F command opens up the search menu on the right side of the screen while you're using Word, you can adjust the settings accordingly in ribbon options.
3. International keyboard
The majority of keyboard shortcuts, including the Ctrl+F, were designed for and according to the standard U.S. keyboard placement. In case you've purchased a different keyboard, it could be that the shortcut sequences have changed, as well.
Therefore, in case you have any kind of non-English keyboard, this could be why your Ctrl+F shortcut isn't working anymore when you're trying to launch the search or find bar.
4. Mac keyboard
Not only are keyboard shortcut sequences designed according to the standard U.S. keyboard placement, but they're also made for Windows keyboards. 
Therefore, if you've recently switched to Mac, this is why your usual shortcuts may not be working, and you may have to learn some new controls to adapt. 
5. Shortcut troll programs
You may not even be aware that some of your favorite programs, including Skype, Camtasia, GoToWebinar, and EverNote may completely override your current keyboard shortcuts, and there isn't even any specific reason for this. 
Thankfully, you can still recover your old shortcuts and continue using your favorite programs without having to uninstall them from your computer. 
6. Keyboard troubleshooter
If none of the mentioned scenarios seem to be the case, it is time to launch the keyboard troubleshooter and find out what seems to be the problem.
In addition to detecting potential issues, the troubleshooter will also offer some handy solutions, or start a process to resolve the issue affecting your keyboard functions, including shortcuts such as Ctrl+F. 
7. Keyboard modes
If your usual keyboard shortcuts don't seem to be working all of a sudden, this could be a result of a special keyboard mode. For instance, switching to gaming mode could affect your keyboard shortcuts.
8. Blockages and defects
Just like any other computer component, your keyboard also accumulates great amounts of dust, debris, and even food particles. 
Not only should the keyboard be cleaned due to sanitary reasons, but it is also necessary to remove any buildup as it could be blocking some of the keyboard functions.
Also, in case your Ctrl+F shortcut is unresponsive, you should also check if these keyboard controls work at all, and not just when it comes to launching the search menu.
In case they don't seem to be working at all, it could be that the keyboard is defective – or at least some elements of it.
How to fix Ctrl+F when it isn't working?
As you can see, many factors could affect the keyboard controls, including shortcuts such as Ctrl+F. However, if you've successfully pinpointed the problem, in most cases you'll be able to solve it in a matter of seconds, and here's how.
1. Fix the DLL file
In case the Ctrl+F combination yields no results, this issue could stem from a faulty DLL file. If this is the case, you may have to re-register the DLL file to recover your keyboard shortcuts.
To start the registration of the DLL file, launch C:\Windows\System32, then search for "cmd" in the Search Bar. Click on the result>right-click on cmd>Run as Administrator. 
The next step is to paste the following sequence: regsvr32 oleacc.dll and hit Enter. To complete the re-registration of the DLL file, restart the computer.
After the reboot of your computer, if the issue persists and the Ctrl+F combo is still not working for you, hit Start, then enter CMD in the Search Menu Bar. 
Once a result shows up, right-click on it and select Run As Administrator, type sfc /scannow, and finally hit Enter to complete the action and launch System File Checker which will detect and replace any faulty files. 
2. Adjust the ribbon options
If you're a creature of habit and you simply prefer to have the search bar pop up on the right side of the screen instead of the left while working in Word, you can change the ribbon options and adjust this setting to your liking:
Open the

File

tab on your

Ribbon

, then click on

Options

on the dialog box.

On the left side of this box, you will see an option to

Customize Ribbon,

then click on

Customize

below it.

Click on the

Home tab

in the

Categories

list, then choose

EditFind

in the

Commands

list.

Position the cursor in the

Press New Shortcut Key

box

,

and now hit the

Ctrl + F

combo, then click

Assign

.
Close the dialog box, then press OK and check if the Ctrl + F shortcut is opening up the Find tab the way it used to before the updates. 
3. Check the shortcuts on your international keyboard
If you've switched to an international keyboard (which is pretty much any kind of keyboard other than the U.S. standard one), you will have to consult Google to find the corresponding shortcut for your keyboard.
Simply google the Ctrl + F equivalent for your specific keyboard type, and you will find the new shortcut sequence you should be using from now on. 
4. Find Mac keyboard shortcuts
Switching to a Mac keyboard can also be challenging if you're used to the Windows one with all its shortcuts. Once again, Google will be quite helpful if you're willing to do the research and discover the shortcuts you need.
Keep in mind that the Mac equivalent to the Ctrl key is the CMD, as it is an important starting point when learning new controls. Also, you may be disappointed to learn that certain shortcuts have longer sequences on Mac than on Windows keyboards.
Luckily, this isn't the case with the Ctrl + F shortcut, as it is pretty much the same: ⌘ + F (Command + F).
5. Stop troll programs from overriding your shortcuts
We've promised that there is a way to handle this situation without having to get rid of your favorite programs, and here's how to do that. 
You will need to detect the program troll, which may take some time, but it is the first step to getting your shortcuts to work again. Next, you want to open the settings of that particular program and find a section called Shortcuts or Hotkey.
If you see the Ctrl + F shortcut in this section for any of the programs, simply change it. This step should enable the shortcut again, but you could restart the computer just to be sure. 
6. Use the keyboard troubleshooter
Discovering the issue is a crucial part of the process, but it can also be the most challenging step. In case you were unsuccessful in detecting the core issue, perhaps the keyboard troubleshooter could do it for you. 
Go to Windows Settings, then select Update&Security. Next, choose the Troubleshoot tab, then click on the Keyboard option in this menu, and finally hit Run the troubleshooter.
Wait for the troubleshooter to complete the process, and it will offer some solutions, or start a resolving process automatically. 
7. Change the keyboard mode
In case you've enabled a specific keyboard mode, such as the gaming mode, this could be the reason why your keyboard shortcuts aren't working as they may be locked.
To unlock all of your keyboard shortcuts, open the keyboard software and make sure that you've disabled any special keyboard modes. 
8. Clean the keyboard and check for defects
It is necessary to clean the keyboard frequently – and not just the top part. Oftentimes, built-up dirt and dust will form blockages inside the keyboard, underneath the surface.
It may be hard to reach, so it is best to use small, thin tools such as toothpicks that could reach these tight areas without damaging the keyboard. Also, you could use a handheld vacuum to remove all the accumulated particles.
While you're at it, make sure to inspect your keyboard closely and check for any defects. If the keys Ctrl and F aren't working at all, it is possible that the keyboard is broken and you need a replacement.
Also, if you're using a USB keyboard, test the connection and ensure that the USB port you're using is working by plugging in other devices. Finally, check the keyboard cable for any defects and loose wires that could compromise the connection.